Learning Objectives:
After reading this blog you'll be able to know:
What is the consumer Goods cloud?
What are the features, uses and advantages of consumer cloud?
Introduction:
Salesforce Consumer Goods Cloud comprises a collection of cloud-based software products equipped with functionalities that support brands and retailers in effectively managing their operations and driving sales and delivering profitable growth.
The solution is built on the Salesforce Platform, the world's leading cloud platform for social, mobile, and connected apps. As a result, it is fast to implement and easy to use, enabling rapid adoption across your company.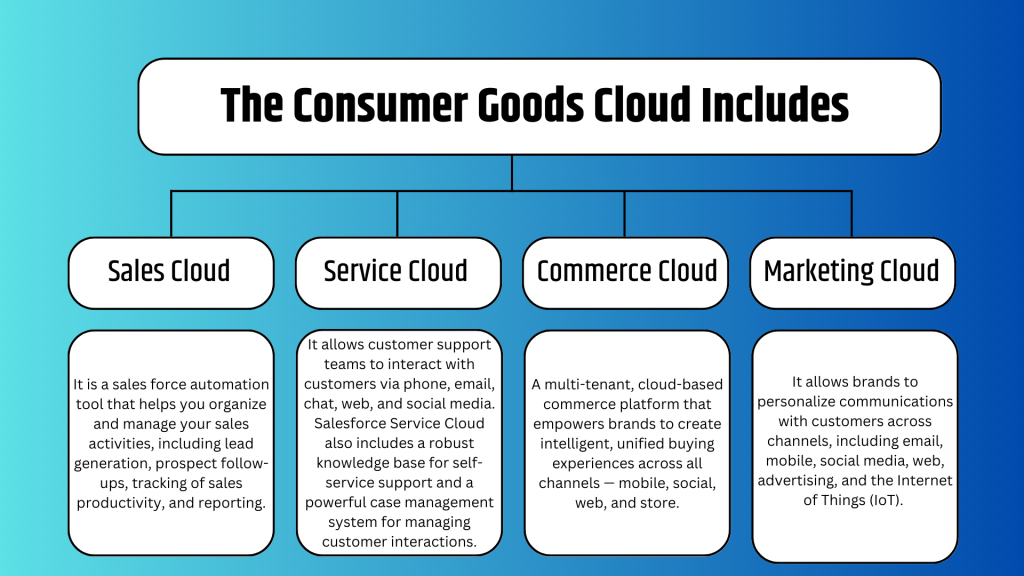 Leverage the Features of Retail cloud in CGC:
Retail cloud is a Salesforce solution designed specifically for the consumer goods industry to help companies manage their sales, marketing, and supply chain operations more effectively.
Here are some features and functionalities of Consumer Goods Cloud: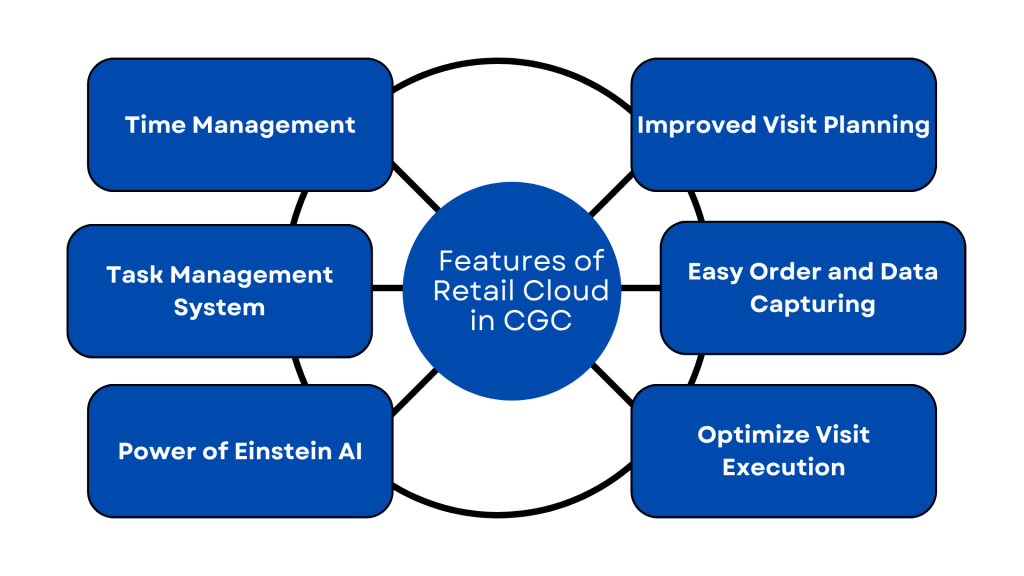 Benefits of consumer goods cloud:
Improvement in Store Planning: Salesforce Consumer Goods Cloud provides sales managers with a 360-degree view of sales targets, orders, discounts, and promotions.
Better Store Layout: By using this feature, retailers can create targeted and customized experiences.
Accurately Audit: It helps to track the inventory and further identify out-of-stock products. It also provides information about a particular product category, pricing, quantity, promotions, and discounts, all from the mobile device.
Navigable store visit: Navigable store visits refer to the ability of field sales representatives to easily navigate through a retail store during their visit.
Capturing orders on Mobile: Empowers sales professionals to increase in-store sales by using their mobile phones to take orders and provides guidance and assists them with product recommendations, ensuring a comprehensive view of order management, pricing, promotions, and discount.
Surveys and Data Collection: Helps in gathering valuable insights and information from customers, by conducting surveys and collecting relevant data, businesses can gain a deeper understanding of customer preferences, needs, and satisfaction levels.
How Consumer clouds is different from other clouds:
Consumer clouds are composed no differently from other cloud systems. The only difference is the B2C nature of their delivery. Most applications that interact directly with the customer can be classified as using a consumer cloud."
Industry-specific functionality: It includes features like retail execution, account management, and direct store delivery, which are essential for businesses operating in this industry.
Data models and processes: These data models efficiently capture crucial industry-specific information, including product hierarchies, retail promotions, and trade spend management, ensuring precise and targeted insights for optimized business operations.
Integration with external systems: Consumer Goods Cloud seamlessly integrates with retail execution systems and merchandising solutions, facilitating smooth data exchange and collaboration across platforms. Other Salesforce clouds have industry-specific integrations.
Analytics and reporting: The Consumer Goods Cloud offers analytics and reporting capabilities specifically designed for consumer goods companies.
Latest Update:
Choose suitable Editions based on your specific needs:
https://www.salesforce.com/in/editions-pricing/consumer-goods-cloud/